Today's post is about tanuki (raccoon dog) figures of Shigaraki.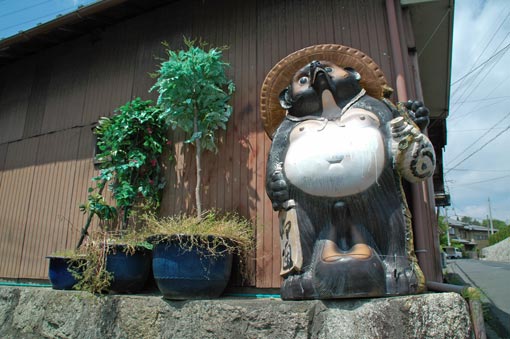 Counted as one of the towns of Japan's "Six Old Kilns", Shigaraki has a long long history in pottery making. While the traditional items of Shigaraki ware such as vessels, pots, tea utensils and tableware have been highly-acclaimed for centuries, what the town name is known for most among the Japanese these days may be its humorous tanuki pottery figures.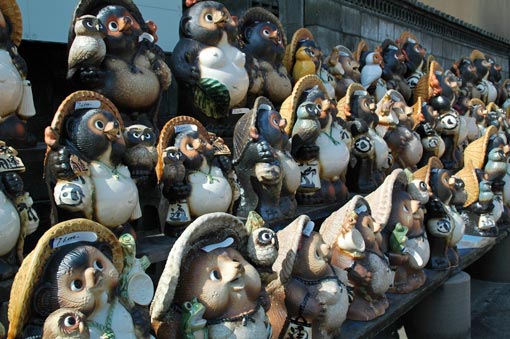 If you walk the streets anywhere in Japan, it is likely that you will see ceramic ornaments of raccoon dogs are placed at the entrance of shops and homes, standing upright with sedge hats on their heads and account books and sake flasks in their hands. The figure is very common as a lucky charm, believed to bring prosperities especially in business. Shigaraki is the home of this pottery animal as well.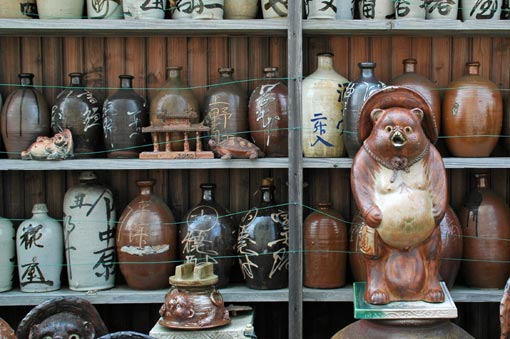 The story of this nation-famous Shigaraki-tanuki dates back to the mid-20th century. At that time, the tanuki figures were made in other pottery centres as well as in Shigaraki. In 1951, when the current emperor visited to the town, people made numerous tanuki figures and put them along the streets with the national flags attached to their hands, in order to make the small countryside town looked more lively and to boost a mood of welcome. The emperor was pleased with this unique reception and composed a haiku (a type of traditional Japanese poem) referring to the Shigaraki–tanuki. As this episode has spread across the country, Shigaraki has become more famed for the pottery tanuki production.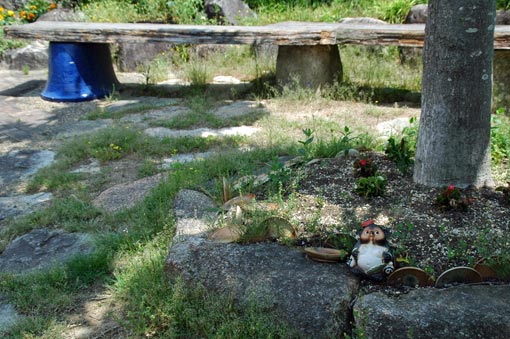 Unsurprisingly, tanuki figures are almost everywhere in Shigaraki town today, not only outside of shops and homes, but also on street corners, in parks and so on. Some are big, some are small, some are male, some are female, some are old-fashioned, some are modern… but whatever the design is, all tanuki are, with their unchanging lovable looks, always welcoming visitors no matter whether they are an emperor/empress or not.